BioArc
A Platform For Creating Electronic Health Records For Patients, Smart Assistant For Physicians
Electronic prescribing and all the features of BioArc are forever free for respected physicians!
Services
Graphical Prescription
Use graphics for the rapid and accurate prescription
Semantic Network Technology
dedicated to each speciality and subspecialty by using semantic network technology
Management Of Surgeries
The only software designed for the management of surgeries by physicians
International Statistical Classification
Advanced search to records past medical history graphically in a native ICD-11
Internal Messenger
Use the internal messenger to communicate quickly and free of charge with BioArc and all BioArc users
24-hour support
BioArc support team responds to you 24 hours a day, 7 days a week
BioArc Introduction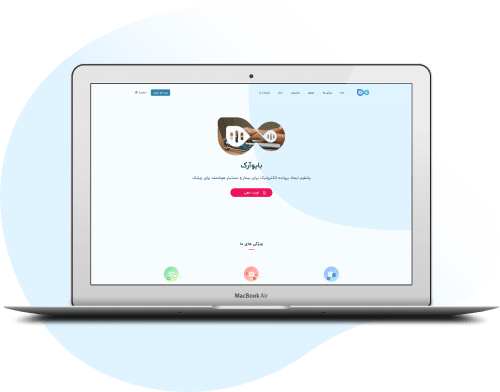 Advantages Of BioArc Electronic Recording Platform For Patients
BioArc is a web-based and online system, so, there is no need to install any applications. Having a smartphone, tablet and laptop the patients can make an electronic appointment with their doctors, they can be visited virtually and have their medical records with themselves everywhere.
Considering the patients' condition (patients with disabilities) and the existing condition in the community (COVID-19 outbreak), the patients can benefit from the virtual visit. Therefore, there is no need to spend time in the doctor's office. Besides, the electronic prescription prepared for each patient will be sent to the nearest pharmacy and para-clinical centers according to the patient's requested address.
BioArc prepares patients' records in both Farsi and English and provides them to patients and physicians. So, the medical records of patients all over the world can be checked in English with a smartphone.
BioArc provides virtual and online visits by video, audio and text. Also, during the virtual visit, it is possible to send medical records online. BioArc for protecting patient's privacy make calls through the patient and physician's browsers. The established call doesn't save on the BioArc server, and the medical documents are saved only in the patient's profile on a specific BioArc server.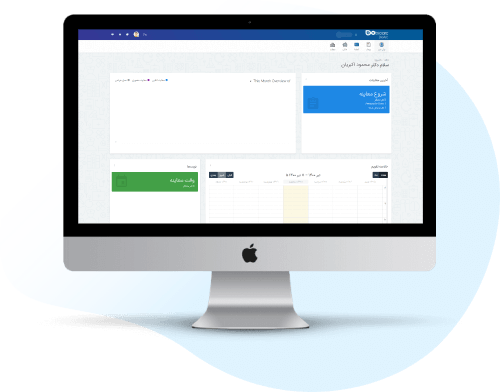 Advantages Of Bioarc Smart Physician's Assistant
BioArc is a web-based and online system so, there is no need to install software, and with a smartphone, tablet, computer or laptop, a physician can visit the patient at any time and place. Due to the online system, all software updates are instantaneous and imperceptible. All information is saved on a specific BioArc server and system and server security are guaranteed by the BioArc security team.
Considering the Ministry of Health and Social Security organization's decision order to remove the health insurance card, the need for an electronic prescription was felt more than ever. BioArc system with the ability to connect to the infrastructure of the Ministry of Health and insurance organizations has provided the opportunity of preparing electronic prescriptions for doctors. In BioArc system for preparing the electronic prescriptions by using the common words and terms in Iran, the graphical electronic version is prepared within the shortest possible timeframe.
BioArc is preparing a comprehensive database for each specialty and subspecialty, with the consulting of more than 200 distinguished medical professors in Iran and try to be a smart assistant for physicians in order to save time and prepare an accurate prescription. In this system, general information about patients, medical records, medication and previous lab tests that are registered for the patient by the same physician or other physicians are saved. Therefore, in a revisit of the patient with the physician, there is no need to re-register the information and due to the usability to save medication and recorded tests patterns, preparation of prescription and patient visit is done in the shortest possible time. Besides, in order to save more time during the visit, this system is equipped with an optical pen.
BioArc with the ability to connect to the relative value of medical services is able to calculate all costs related to the services provided in each physician's office and clinic. This system is capable of instant reporting on a daily, monthly and annual basis, it is also reporting to calculate the income of a particular service at a specific time. These reports will be sent if necessary, by the physicians to the insurance organizations.
BioArc is the only software that can be used for surgical operation (sections: pre-operation, operation, post-operation, and follow-up) with the usability to add specific forms for each surgical operation steps.
BioArc App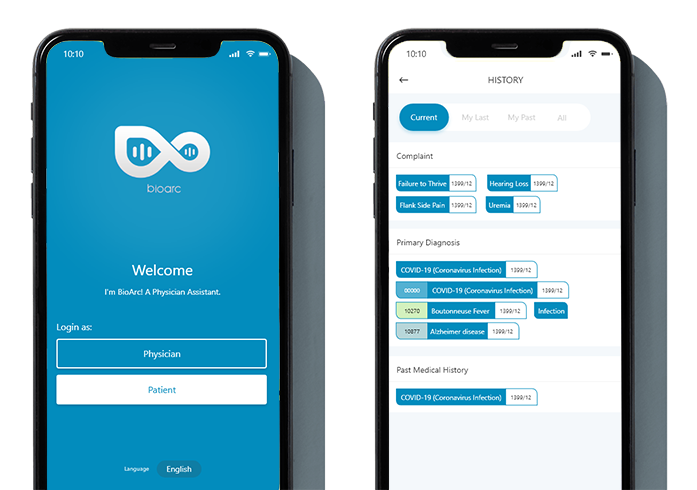 One App for Physician and Patient
For sake of comfort of Physicians and Patients we have been developed a mobile application alongside our website, thus you can access BioArc experiencing native app and online system. BioArc cares about your comfort. All Together.



Information About Company
BioArc application originated from the university and was developed in department of computer engineering, Ilam University. BioArc is the result of professors' cooperation of Tehran university of Medical Sciences (TUMS). In 2016, the cooperation of TUMS and Sharif university graduates due to the needs of Rheumatology Research Center (RRC) of Tehran university of Medical Sciences began the processes of developing a comprehensive patient registration system for recording rheumatic patients' information (patients' registry system). After two years of starting the comprehensive patient registration system and updating software in RRC, it was decided that the other research centers in the country would benefit from this comprehensive and powerful system. Based on this, the comprehensive knowledge-expertise platform for patient registration system of the BioArc, officially started its work in 2019. Over the past years, in addition to the RRC, top research centers such as Endocrinology and Metabolism Research Institute (EMRI), Pediatrics Chronic Kidney Disease Research Center (PCKDRC), Immunology, Asthma and Allergy Research Institute (IAARI), Autoimmune Bullous Disease Research Center, Urology and Nephrology Research Center (UNRC), have used our platform to register their patients. Due to the great acceptance of research centers for platform of the comprehensive patient registration system, BioArc decided to launch a comprehensive online software based on medical science topics that can be used by physicians in their private and governmental offices. Our application is expertise-oriented in addition to powerful management capabilities for the office, contains various scientific information in several field of medical specialties. This software has been provided through the cooperation and advice of more than 50 professors and researchers of TUMS and other universities through the country. The main purpose of BioArc is to influence and change the society, especially the medical community. BioArc tries to have deep impression relying on scientific issues and strong support.
Client's Feedback
We use this program for the rheumatology clinic of Shariati Hospital. We have used four other programs before this history. This app is very easy to use and has a good support team.
Dr Ahmadreza Jamshidi | President of Rheumatology Research Center (RRC)
Contact us
If you have any questions or suggestions, please let us know in the form below.
And you dear ones can also contact us using the map below.